What is Botox©?
Botox© is an FDA approved treatment to temporarily improve the appearance of moderate to severe frown lines between the eyebrows, wrinkle lines on the forehead and crow's feet around the eyes in adults. Botox© temporarily reduces muscle activity in these areas and stops the repeated muscle contractions which result in frowning and squinting, which can cause wrinkles over years. Botox© reduces dynamic wrinkles and lines in the forehead and around the eyes which occur when you use your muscles to make facial expressions.
Static wrinkles that are present when you are not forming facial expressions (i.e. when your face is at rest) will not disappear with Botox© but may soften with repeated treatments over many months or years. Botox© is administered by Dr Buckley who is Allergan trained in this technique using tiny needles which are similar in size to an acupuncture needle. Botox© is injected under the skin in the areas that you want the muscles to relax. You may begin to notice results within twenty-four to forty-eight hours and maximum results are obtained after two weeks. Botox© lasts for three to six months depending on the area injected.
What Botox© is good for: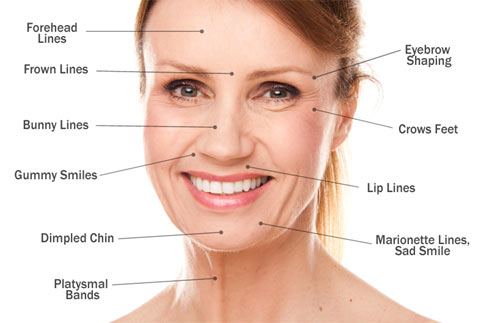 Before and after Botox©:
Before and after Botox©: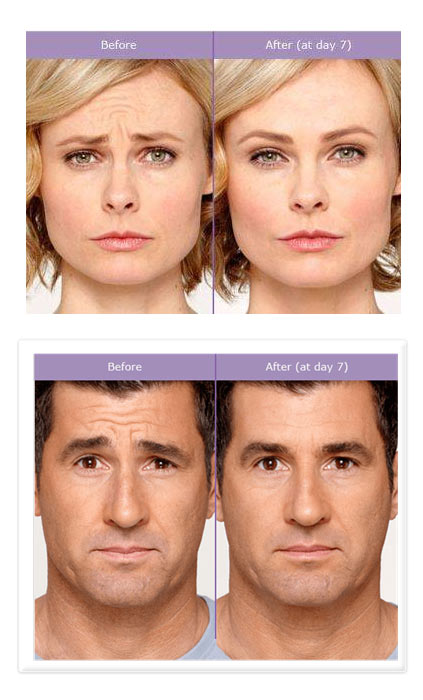 Ten Reasons to get your Botox© / Fillers from Dr David Buckley.
Dr Buckley is one the most experienced Botox© and filler injectors in Ireland and has been performing these injections for over fifteen years. He is a member of the following professional organisations:-

- European Academy of Dermatology and Venereology.
- Aesthetic Complications Expert Group (ACE Group).
- International Society of Cryosurgery (on the board of directors).
- Primary Care Dermatology Society of Ireland (founding member).
- Primary Care Surgical Association (founding member).
- Irish College of General Practitioners.
- Royal College of General Practitioners.

Dr Buckley is on the specialist register of the Irish Medical Council having completed recognised specialist training (Registration No: 03164). He has a special interest in dermatology, skin surgery and aesthetic medicine. Dr Buckley has completed advanced training in injection techniques with Allergan (the manufacturers of Botox© and the Juvéderm© range of fillers). If you are considering a non-surgical procedure, ensure your practitioner is appropriately trained, registered with their professional body and knows how to manage potential complications. Dr Buckley is a member of the Aesthetic Complications Expert Group (ACE Group), (www.acegroup.online). Members of the ACE Group adhere to best practice, using products within their correct indications and supplied from reputable sources, operate from an appropriate clinical environment and work within their scope of competency. Dr Buckley is the only registered medical practitioner member of the ACE Group in the West of Ireland. Complications in aesthetic medicine are rare and usually not severe. As a member of the ACE group, Dr Buckley is trained on how to deal with injection complications.

Dr Buckley only uses Botox© (made by Allergan in Ireland) as his preferred muscle relaxant. This is the safest, most effective and longest lasting muscle relaxer on the market today. Some clinics use cheaper muscle relaxants but promote them as ''Botox©''. Always look at the vial or packaging before having injection treatments to ensure you are getting what is advertised. If the fee you are quoted elsewhere is substantially less than ours, you are probably not getting ''Botox©''.

Dr Buckley only uses the Juvéderm© range of fillers which are manufactured by Allergen, the same company who make Botox©. These are the safest, most effective and longest lasting hyaluronic acid fillers on the market today. These fillers are also reversible by an antidote called hyaluronidase which can dissolve the filler when injected into the area should anything go wrong. Dr Buckley always has an ample supply of the antidote (hyaluronidase) in stock.

Dr Buckley offers a wide range of aesthetic procedures which can complement Botox© or fillers such as:-

- Pulse dye laser for broken veins and non-ablative laser resurfacing.
- Intense pulse light therapy for hair removal and pigment removal.
- Microneedling using the Dermapen for fine lines, wrinkles and scars.
- Chemical peels to improve the tone and texture of the skin.
- Microdermabrasion.
- Electrolysis for hair removal.

Dr Buckley specialises in dermatology and community based skin surgery and can investigate and treat all skin problems such as eczema, acne, psoriasis, warts, ingrown toenails and suspicious skin lesions. Dr Buckley is an expert in skin microscopy known as dermoscopy and can assess most moles and other skin lesions with a hand held microscope using state-of-the-art digital technology and photographic assessment therefore often avoiding having to resort to surgically removing moles or other skin lesions for diagnosis.

The prices in Kerry Skin Clinic are competitive compared to other clinics around Ireland. We are one of the few clinics that give a 50% discount for the first time a client gets Botox© to decide if they like it, see if it suits them and to ensure that they are happy with the services we have to offer. We give generous discounts to regular clients.

We offer a free, no obligation, initial consultation with Caroline O'Connor, our aesthetician who will discuss the various treatments we have on offer, including Botox© and fillers, explaining what is involved and the associated prices.

We offer a free, no questions asked, follow-up visit and a free top-up of Botox© if necessary within two weeks of the initial session to ensure that you are happy with the final results.

We also offer a 50% off the list price for top-up of Juvéderm© fillers if you need a top-up within two weeks of the initial treatment.

Dr Buckley, who is Allergan trained, injects under careful sterile conditions in his surgical suite using the smallest needles available for Botox©. We inject fillers with very small needles or cannulas (a soft needle) to ensure comfort and safety. All our fillers have added local anaesthetic to make the procedure more comfortable for you.